1989 Upper Deck Baseball Cards Behind the Scenes With the Bio Writer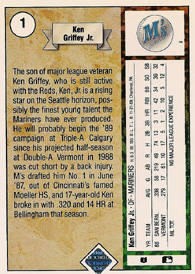 The Upper Deck Company has become firmly entrenched in baseball card history and the 1989 Upper Deck set remains one of the most influential and important sets of baseball cards ever issued.  As well documented as the hobby history has become, it remains a pleasure to speak with someone directly involved in a set and hear a previously untold tale. The interview below is with retired sportswriter and longtime friend of SellBaseballCards101.com – John Montague who was responsible for the biographies on the backs of the nascent Upper Deck set.  Some fans may recognize John as the former owner of the Baseball Blue Book and many other sports publications. I asked John to share some hobby memories and touch on the events that led up to his involvement with the Upper Deck set. So without further ado:
I began collecting baseball cards in 1952, when I was 10 yrs old. The year before I was collecting what I believe we kids called "war cards" — depicting WWII and Korean War images, military heroes, planes, ships, tanks. etc.  But in the summer of '51 I saw my first major league game (Ted Williams hitting a home run to beat the Senators in Washington's Griffith Stadium) and I became a baseball fan for life. In fact, I have a clear memory of walking by an open apartment window in my hometown of Norfolk, Va., that fall and hearing the broadcaster screaming "The Giants win the pennant! The Giants win the pennant!"
The first baseball cards I collected were 1952 Bowmans. There were 3 or 4 of us kids who were baseball-crazy and we would scour the neighborhood for empty pop bottles, then jump on our bikes and take off for this little general store run by a grumpy Chinese man (this was long before 7-11's), get a couples of pennies for the bottle refund and buy baseball cards, which came wrapped in wax paper, one card to a pack for one cent. The anticipation you had when you unwrapped that single, hard-earned card compares favorably with anything I ever experienced, including the first night with a girl in the backseat at the drive-in.
I was a Phillies fan because my dad was a Phillies fan. His boyhood idol had been Chuck Klein. Mine was Robin Roberts. Unfortunately I was more into Tarzan comic books and Gene Autry's "Melody Ranch" on the radio in 1950, when the "Whiz Kids" won the pennant. But the team was still pretty much intact in '52, and I memorized the entire 25-man roster primarily through my Bowman cards and looking at the box score in the newspaper every day. I knew where they were born, how they batted and threw, what year they came up to the majors, what minor league teams they had played for, etc. Besides Roberts, other favorites were shortstop Granny Hamner and third baseman Willie "Puddin' Head" Jones. How can you NOT like guys named Granny and Puddin' Head?
Another guy who would have been a big favorite — had he not been traded to the Reds in early '52 — was pitcher Bubba Church. He had won 15 games in 1951, and I still remember going with my dad to the drugstore to pick up the Sunday paper and his announcing that today's starting pitchers would be Bubba Church against Preacher Roe, "because they always pitch on Sunday!"
As I recall, the Topps 1952 debut set was not available at the little neighborhood store until late spring or early summer, so I already had a pretty big Bowman collection before I saw my first Topps card. My memory is hazy, but I seem to recall Bill Werle (a pitcher with the Pirates) as being the first Topps card I ever opened up. My buddies were all front-runners, which is to say Yankee fans, and they may have had Mickey Mantle's card. But I would probably have traded Mantle for Clyde Kluttz.
Clyde Kluttz? He was from Salisbury, N.C., where I was born. Before the war my dad had worked as a newspaper reporter there in Salisbury, and had helped coach the American Legion team, which included young Clyde as catcher. In 1951, Kluttz was a back-up catcher (behind Mickey Grasso) with the Senators. So, when we went to Washington for my first big league game that summer, we met up with Clyde and he actually took us into the Senators clubhouse before the game and introduced us to several of his teammates. Funny thing happened while we were there. Bob Porterfield, the scheduled starting pitcher, was a noted prankster and was trying to give another player a "hot foot" — sticking several matches in his shoe and lighting the matches. Somehow the box of matches caught fire in Porterfield's hand, burning the fingers on his pitching hand. Rather than tell his manager Bucky Harris what had happened, he went out and tried to pitch with the blisters — and gave up a bunch of runs to the Red Sox in the first inning before being yanked.
Another big leaguer I felt I had a connection with was Chuck Stobbs, the southpaw who gave up Mantle's 500-plus foot homer in Washington one afternoon on the "Game of the Day" (the Mutual Radio Network broadcast a game every afternoon, 7 days a week, moving around from one city to another, but lots of Cubs game as I recall, because Wrigley didn't have lights). So, I was listening when Chuck threw that famous gopher ball. He had been a big football star at Norfolk's Granby High School as a left-handed quarterback (the center who snapped the ball to him was Hank Foiles, who also had a long career big league career, as a catcher). Anyway, I went to school with Chuck's younger brother, Dick Stobbs.
The "Game of the Day" also held other memories for me. I was listening in 1954, when the Braves' Jim Wilson no-hit my Phillies in Milwaukee (it was the Braves' first season there). And, in 1952, when I was visiting my grandparents in Kansas City, I got to meet Dizzy Dean and get his autograph. The Kansas City Blues were the Yankees' top farm club in the Triple-A American Association back then, and on Mondays when there usually were no afternoon big league games, "The Game of the Day" would carry a minor league game. Dizzy Dean was one of the broadcasters and was there in KC to do the Blues' game against I forget whom. My grandad took me down to the field to meet Dizzy. Also that day I got to say hello again to Moose Skowron and Bill Virdon, both having played for Norfolk's Piedmont League team the year before.
Back to the baseball cards. From 1953 through 1956, I was an avid Topps collector. I believe, after countless trips to the local five and dime and many, many Billy O'Dells and Spook Jacobses, I think I finally completed the '55 set. But by 1956, I was hooked on the new game in town — rock & roll — and started collecting 45 rpm records (a passion that continues to this day). And the card collection that I had amassed for 5 years was forgotten. Was there a '52 Mantle in there? I honestly don't know. Baseball cards back then held no real value. Many kids put them in their bike spokes. They meant more to me than that. But my collection didn't even make it as far as the proverbial shoebox which your mom throws out when you get married or go off to college. I had a younger brother — 12 years younger — and when he was about 5 or 6 years old, which would have been 1959-60, he got into my cards and pushed them around the floor, pretending they were soldiers in a battle or something. He wore them down till there were faceless. And I had no objection at all. Had he broken one Jerry Lee Lewis Sun record at the time I would've probably killed him.
In 1980, after 15 years as a sportswriter, I became general manager of Howe News Bureau, the baseball statistician for most of the minor leagues, which had moved that year from Chicago to Boston. This was when we went from pencils to computers. We also had all major league stats in our database as well. Sometime in 1988 we were approached by a California company which wanted to produce a "state of the art" baseball card set. This was Upper Deck. I believe, but am not sure, that they came to us because Topps already had a contract with Elias Sports Bureau, which did the official major league stats, and because they needed minor league stats.
Anyway, Howe got the deal to produce and deliver the stats for the 1989 Upper Deck cards. I met with the Upper Deck folks at their offices in Yorba Linda. I remember a discussion about who should be on card No.1. They wanted it to be a rookie because (1) they were a rookie company, and (2) the age of "the rookie card" had begun. I cast a "vote" for Ken Griffey Jr., who seemed to be the emerging choice anyway, so by no means was my vote decisive.
Also, I asked who was going to write the small bit of text for each card. They were playing it very close to the vest as to who would be in the set (I was sworn to secrecy when they gave me the list in several installments) and apparently did not want to "go outside" any more than they already had, for example to get a regular beat writer to handle the job. End result: I wrote the backs for all the cards. Since our small Howe staff was completely tied up with finalizing the 1988 season stats for something like 14 leagues, I did the writing on the weekends, on my own time. Can't recall what they paid, except to say it was nowhere near the worth of the hours I put in.
After 25 years in the sports business, and closing in on age 50, I was no longer the same kind of "fan" I had been as a kid of 12. I remember the '52 Bowman's and the early Topps cards much better than I do the '89 Upper Decks. In the winter of 1988-89, it was still more a "labor of love" than for the money, but the love was diffused. It was that I was trying to do a good job researching and writing. I no longer felt connected to the players, like I did as a youngster. So, despite my close association with what has become an historic card set, I don't have any favorite memories of it, no favorite card. Once I completed the job, I more or less forgot about it. We were in the process of selling Howe (I held a minority interest) at the time, moving into other sports, etc., and there was plenty of other business which required my attention.
When my own box of the '89 complete set arrived, I was impressed with its overall quality. But I still preferred the simplicity of those '52 Bowman's, of Gus Zernial having six baseballs stuck to his bat on his '52 Topps card. I purchased the reprints of those sets and will never let them go. I gave the '89 Upper Deck set away a few years back, to a card-collecting friend for his birthday.