Top 10 Obscene Baseball Cards
For more than 100 years, baseball card collectors have treasured the cardboard depiction of their diamond heroes. For almost as long, they have guffawed and chortled at the obscene baseball cards that have slipped through the cracks either intentionally or unintentionally. Below are ten of the most famous naughty baseball cards (with apologies to playground rib-ticklers Rusty Kuntz, Dick Pole, and Woody Held). There are others, but these are the ones that most commonly crop up when collectors gather to buy and sell baseball cards. Without further ado:
#10 – 1966 Topps #586 Claude Raymond
Frenchy is remembered as a journeyman pitcher (when he is remembered at all), but most will remember him for his back to back Topps cards featuring his fully unzipped fly.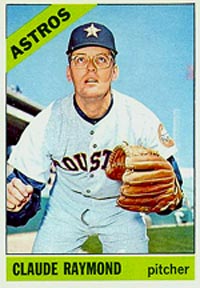 #9 – 1967 Topps #364 Claude Raymond
Another year and either Houston is supplying the worst pants in baseball to their players, or Frenchy has done it again!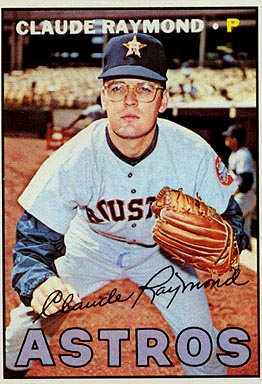 #8 – 1989 Score #595 Paul Gibson
Paul Gibson was a victim of being in the wrong time at the wrong place! The background player with an "itch" commands all the attention. This may seem modest, but it was serious enough that Score issued a corrected version with the offending hand airbrushed out.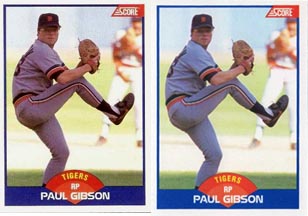 #7 – 1991 Upper Deck #246 Frank Thomas
This card caused quite a stir for the Upper Deck Company. The talented Thomas could be surly and this was passed off as an accident. Three years later when it happens again collectors and fans could no longer be sure.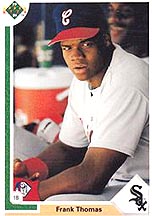 #6 – 1972 Topps #33 Billy Martin
The tale is about the same. Is Billy casually leaning on a bat or really flipping the bird? If it were anyone other than the fiery Martin it would have been more likely to be dismissed.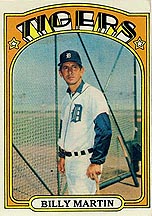 #5 – 1964 Topps #147 Ray Sadecki
Pitchers seem to get the worst of it. Poor Ray Sadecki must have been the butt of many jokes with the cut off A-S-S banner hanging prominently behind him. To a young collector ripping packs in the summer sun, pulling this must have almost been as thrilling as a Mickey Mantle. Almost.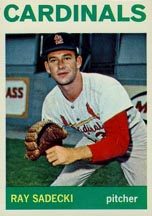 #4 – 1963 Topps #70 Jim O'Toole
At first glance, only the last name may inspire some juvenile giggles. The front is innocent enough. The cartoon graphic on back is open to interpretation. Is that a simple pant's crease or a mischievous artist?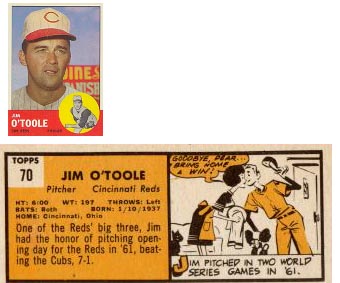 #3 – 1994 Topps Stadium Club #285 Frank Thomas
Sure, he's only applying eye black. The black eye belongs to Frank. Another bird and this one seems to be far more intentional than the perhaps innocent Upper Deck version a few years earlier.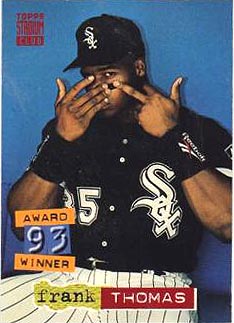 #2 – 1887 Old Judge (no number) Ol Hoss Radbourn
A repeat offender, Ol Hoss Radbourn's N172 tobacco card clearly shows the middle finger all too clearly. Hoss had been captured during a team photo delivering the bird earlier in his career. This depiction of the Hall of Fame pitcher (who happens to hold the single season wins record with an unbelievable 59) continues to command top dollar. A high-grade example sold at Robert Edward Auction for more than $9000 in 2010.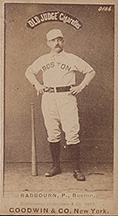 #1 – 1989 Fleer #616 Billy Ripken
By far this is the card that most people think of when they think of an obscene sportscard. The notorious F*** Face card has received more attention than all the others on the list combined. Issued with the expletive penned on the knob of Ripken's bat, it was quickly corrected. Again. And again. And again. Variations exist that have the offending phrase covered by a white scribble, a whiteout blog, a black box, a black scribble and on and on. There is a least one website devoted to just this one card and its variations.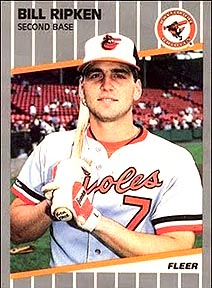 So there you have it! Even in the wholesome world of baseball card collecting there are some "interesting" cards that make some do a double take and offer new collecting opportunities for others. Happy collecting.